1. What % of your revenue comes from diverse markets? 2. What % of your workforce comes from the diverse population? 3. What is your diverse market strategy?
Diversity is our business.
Today, the face of U.S. consumers and employees is changing rapidly. Over 50% of our population are women, nearly 35% are multicultural and over 25% are millennials. As the marketplace changes, "one-size-fits-all" marketing has become less effective. If you are struggling to connect with new Americans, we can help.
Understanding The Women's Market
One third of the U.S. population is multicultural and in 10 of the largest cities the multicultural population is the majority. We create market strategies so that businesses can begin to leverage their value proposition in these exploding markets.
Many of the fastest growing businesses have diversity and inclusion as the cornerstone of their marketing strategy.  Our Global Diversity University (GDU) provides innovative training and development programs addressing the needs of every business regarding:  a diverse workforce, an inclusive and conducive workplace and a significantly growing marketplace.  globaldiversityuniversity.com
We solve the great disconnect. For many businesses their customer facing distribution does not mirror the "New America." We identify the disconnect and strategize with our clients on recruiting and development plans to create seamless integration with customers from emerging markets.
Today's technology has enabled businesses of all sizes to become global. Global Diversity Marketing, with its intimate knowledge of diverse cultures and distribution strategies, is positioned to take our client's business to the next level.
We provide a total solution strategy for social media and digital marketing for diverse customers. We have developed a compelling social media presence for culturally relevant audiences across the country and around the globe. Our expertise includes understanding audiences and their preferred modes of engagement on social media. We also have innovative approaches to reach them through digital marketing and advertising.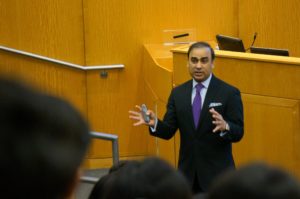 Stratford University has announced today that Tariq Khan has joined its Board of Trustees. Mr. Khan is the Founder and CEO of Global Diversity Marketing (GDM), an innovative firm specializing in marketing, strategy and social media consulting in the diversity arena. GDM's client list includes leading Fortune 500 companies. Prior to founding the company in 2009, Tariq had a distinguished twenty-year career in the financial services industry with several leading international companies.
We specialize in acquiring/retaining diverse customers/talent.
Introduction
Global Diversity Marketing is an innovative consulting firm where our team of highly qualified professionals bring over 150 years of combined experience. We provide innovative solutions to help you achieve your objectives. What makes our organization unique is that we don't only make a business case for diversity but we also develop and help you execute innovative strategies for your company to benefit from the changing marketplace.
Our Promise
We will listen to you carefully, offer our insights based on research and extensive experience and provide top class consulting at a fair price to help you achieve your objectives. We believe in delivering measurable results that will enhance your bottom line.