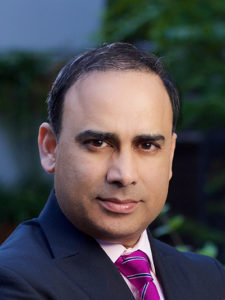 Stratford University has announced today that Tariq Khan has joined its Board of Trustees. Mr. Khan is the Founder and CEO of Global Diversity Marketing (GDM), an innovative firm specializing in marketing, strategy and social media consulting in the diversity arena. GDM's client list includes leading Fortune 500 companies. Prior to founding the company in 2009, Tariq had a distinguished twenty-year career in the financial services industry with several leading international companies. Mr. Khan has made equally impressive contributions in the non-profit world, serving on the boards of the Asian and Pacific Islander American Scholarship Fund, the Asian Pacific Institute for Congressional Studies (APAICS), National Association of Asian MBA (NAAMBA) and Ascend, the largest Asian American professional organization.
In addition to leading GDM, Tariq is an adjunct professor of marketing and public relations at New York University graduate school. He is a frequent speaker at many industry conferences on global marketing, leadership and changing trends.  He has launched several award winning branding and social media campaigns as well as marketing programs for the African American, Hispanic, Asian and women's market. He has also been featured in numerous trade and industry publications and has appeared on global mainstream media including CNN International LIVE.
To read the full press release click
here
MEDIA CONTACT:
Kenia Berrios
917-498-2900
Kenia@gdmus.com
ABOUT GLOBAL DIVERSITY MARKETING, INC.
Global Diversity Marketing (GDM) is a New York based consulting firm of highly qualified professionals with over 150 years of combined experience. Global Diversity was founded in 2009 to help companies solve 'the great disconnect' between the changing new customers and the distribution. Since its inception, Global Diversity Marketing has helped major global Fortune companies connect with diverse talent and customers to grow their business. GDM provides creative solutions for diversity marketing, segmentation, management, online strategy, social media and global insight.